BroadBand Year
Merlin Media created this pre-tradeshow handout CD-ROM for Imark Communications, the organizer of this annual event.
The CD is divided into 10 major subject areas each with between 4 and 12 individual speaker's presentations (in the form of PDF files). The entire interactive project was developed as a web site delivered on a CD, requiring only an Internet browser and the PDF plugin ‹ the Adobe Acrobat Reader installer is located on the CD.
The CD-ROM label was developed to mimic the user interface (below).
Return to Previous Page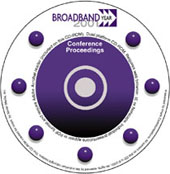 Merlin Media produces a variety of interactive CD-ROMs and DVDs using new designs and/or client-supplied artwork. Here are some screen shot from the client and project described to the left.