King Faisal Specialist Hospital and Research Centre - Saudi Arabia
This cross platform CD was developed as an informational and marketing tool for use by this Saudi Arabian hospital.
Almost 30 minutes of video segments, more than 50 Powerpoint presentations and hundreds of photographs were used to create this interactive CD-ROM. It provides users a way to see each of the dozens of departments in the Hospital and to hear and read about what they have accomplished and what they can offer patients.
Merlin Media designed the interace and all artwork used in the CD with the Hospital providing all rew content and partially-edited videos. Merlin Media went on site to assist in the production of one very important video segment.
Two versions of this CD have been produced as of mid-2003 with an all Arabic version in the planning stages. Here are just a few screen shots from the CD's 220+ screens.
Return to Previous Page
The CD also features about 2 dozen pdf documents ranging from a dozen pages to more that 135 pages each. These include additional information on various departments as well as one devoted to the accomplishments of the Hospital since its inception.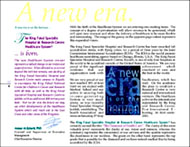 Merlin Media produces a variety of interactive CD-ROMs and DVDs using new designs and/or client-supplied artwork. Here are some screen shot from the client and project described to the left.