Netschool's 2001 Product Introduction
This cross platform CD was developed to be an interactive introduction to the NetSchools Orion product for educators. The presentation is divided into an overiew series narrated of screens — designed to provide information for school administrators — and a series of "side bar" pages which may be visited by anyone wanting specific information about the product — such as individual teachers. Two version of this CD were created.
Merlin was responsible for the development of the interface and all interactivity programming.
Additionally, a multi-panel printed "wallet" was designed for the packaging of this CD (see below).
Return to Previous Page
The basic Table of Contents screen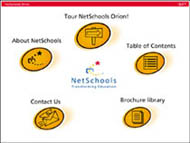 Merlin Media produces a variety of interactive CD-ROMs and DVDs using new designs and/or client-supplied artwork. Here are some screen shot from the client and project described to the left.