KCC - Kankakee Community College
Merlin Media, in conjunction with our education partner, Interact Communications, created an entirely new website with content management system for KCC.
The school services a number of distinct audiences, so their website needs run a wide range. What works to entice high school students to look through a college website, and the information they want and need, isn't the same thing senior citizens want (or are willing to accept) when they are looking for special interest education courses.
The approach taken, and pioneered by our partner Interact, was a pod approach where each audiences needs were analyzed and a complimentary but distinct interface was created. These pods provide varying levels and kinds of information depending on the needs of that audience, even through they draw from the same 'pool' of information. A powerful content management system was installed and configured to meet these needs.
All pages and templates created for KCC are fully compliant with Section 508 of the Americans With Disabilities Act.
Return to Previous Page
Merlin Media produces a variety of websites (Internet, intranet and extranet) using new designs and/or client-supplied artwork. Here are some screen shot from the client and project described to the left.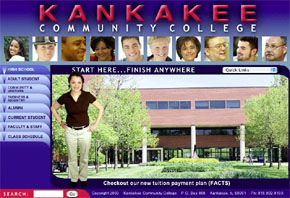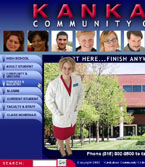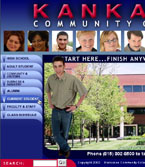 Each department/area has its own identifying individual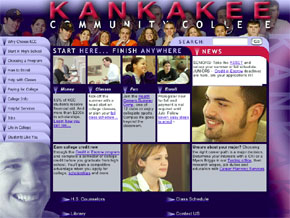 Each department/area follows a basic look, but incorporates layouts and
graphics which are unique to that part of the website