Cobalt Networks
Manufacturers of the Cobalt Qube and RaQ servers. Early in their company history Merlin Media helped to esign and develop their first website producing everything from the graphical user interface to the interactive programming to the complex product database and lookup.
Between that date and their ultimate sale to Sun, we helped them with two complete site redesigns and provided all ongoing maintenance of their web site. Each site increased in complexity and size withthe third site encompassing more than 400 web pages.
In addition to our website work for Cobalt, Merlin also helped create the administrator and user interfaces for their server products. And as part of their third site design, Merlin developed a new application to allow Cobalt to upload and update multiple mirrored servers located in several locations around the world.
The example below is from their second website; the other images are from the third website redesign.
Return to Previous Page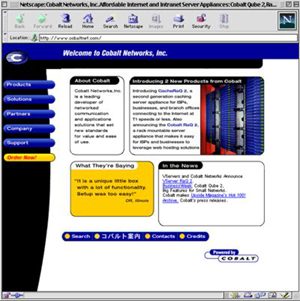 Merlin Media produces a variety of websites (Internet, intranet and extranet) using new designs and/or client-supplied artwork. Here are some screen shot from the client and project described to the left.