LSI Logic
LSI Logic is an integrated circuit developer and manufacturer.
Merlin Media was responsible for the design and creation of their Human Resources intranet web site for Benefits and Healthcare Programs, and for the design of 8-10 additional HR intranet sites during 1999-2000.
During 2000 and 2001 we provided periodic updates and enhancements to this site as their programs underwent annual changes.
Because this is a company confidential website, we can only show you the Home page.
Return to Previous Page
Merlin Media produces a variety of websites (Internet, intranet and extranet) using new designs and/or client-supplied artwork. Here are some screen shot from the client and project described to the left.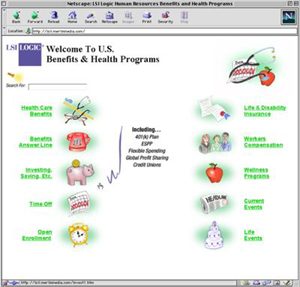 A second, related intranet website was created in 2000
to support LSI Logic's "Management Ladder" program.
It featured information on the different career paths within
the company as well as a custom email system to allow
employees to request consideration for advancement
to one of their Fellowship positions. This system allows
the employee to fill out form including the names and
email addresses of two managers they wish to have
provide references... the system sends them the form
and allows them to give approvals, and then to
coordinate the sending of the completed forms
to the appropriate company officer and department.